Buy best sunscreen that protects your skin form harmful UVA, UVB sun rays. A wide variety is available here such as sunscreen lotion, sunscreen gel and more that suits for different skin types at best prices. we have listed out best sunscreen brands which can get you summer ready in any time.
1. Lakme Sun Expert With SPF 50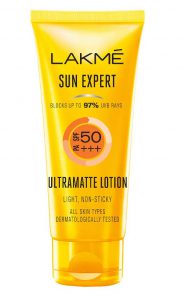 Lakme sun expert with spf 50 ultra matte lotion protect your skin against UVA and UVB rays. It also prevents sunburn, dart sports, premature ageing and tan lines. Gives a cooling effect and lightens the skin tone on regular use.
2. Lotus Herbals Safe Sun With SPF 40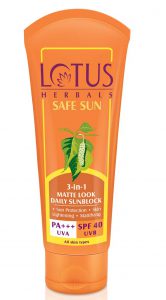 Lotus Safe sun 3 in 1 matte look tinted sunscreen with spf 40. It acts as a constant protection non-greasy, mattifying, instant BB glow, mallow extract soothing and anti inflammatory. Sun Block liberally and evenly on face and exposed parts of the body (neck, arms, legs, etc.) before exposure to sun. Re-apply frequently, suitable for all skin types.
3. Mamaearth Ultra Light With SPF50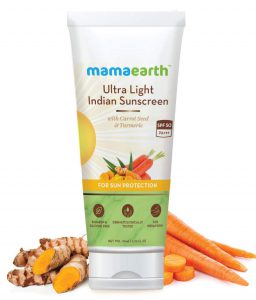 Mamaearth ultra light natural sunscreen lotion spf 50 With Turmeric & Carrot Seed. The lotion is suitable for Indian skin tones, it get easily absorbed and can be used under make up too. It protects your skin in the form of a protective layer on skin from both UVA & B rays, it is non- sticky as well as moisturising.
4. Buywow Skin Science With SPF 35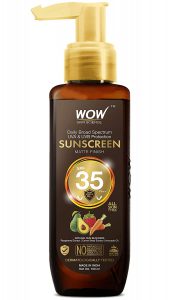 Wow skin science sunscreen matte finish with spf 35. This natural sunblock gives skin broad spectrum protection from harmful UVA and UVB rays and pollutants. Is is suitable for all skin tones, lightweight with high concentration of skin nourshing natural actives.
5. Neutrogena Ultra Sheer With SPF 50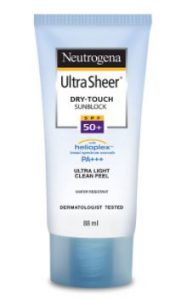 Neutrogena ultra sheer dry touch sunblock sunscreen for women and men with spf 50. It protects against UVA UVB rays, leaves skin soft and smooth. SPF 50 suncreen which is waterproof, sweatproof, oil free and non-comedogenic has a non shiny finish.
6. VLCC De-Tan With SPF 50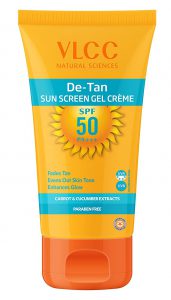 VLCC De tan sunscreen gel creme with spf 50. Broad spectrum protection from sun's UVA and UVB rays, Suitable for all skin types. It is for both Men and women gives full coverage for face and neck.
7. Nivea Sun Protect & Moisture With SPF 50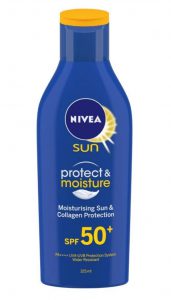 Nivea sun lotion with spf 50 for men and women. It provides protection against both UVA and UVB rays, water resistant. It is suitable for normal skin type.
8. Biotique Bio Morning Nectar With SPF 30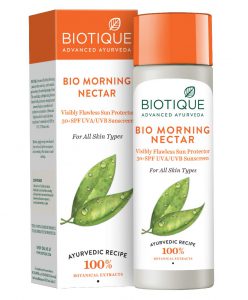 Biotique bio morning nectar sunscreen ultra soothing face lotion with spf 30 for men and women. 100 percent natural protects skin. Apply evenly over cleansed face and neck, before sun exposure, each morning, wear alone or under makeup.
9. Lacto Calamine Daily Sunshield With SPF 50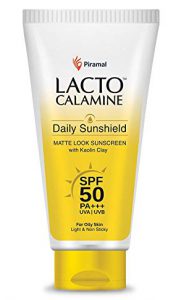 Lacto calamine sunshield matte look sunscreen with spf 50. Best sunscreen for oily or acne prone skin, paraben and sulphate free. water based sunscreen with light weight and quick absorbing, non-oily and non-sticky.
10. L'Oreal Paris UV Perfect Matte & Fresh With SPF 50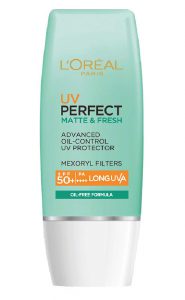 L'Oreal paris UV perfect matte and fresh long UVA spf 50. It helps prevents uv-induced skin darkening, dark spots, premature skin ageing and form pollution. Use every day after cleansing and moisturizing for better skin tone looks more even brighter.